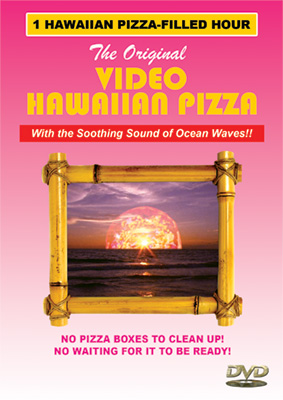 VIDEO HAWAIIAN PIZZA
DVD $9.99 USD | DOWNLOAD $6.99 USD
Plus $5 S&H USA (Int'l varies)

(Soothing Ocean Waves Soundtrack Edition)



(Ambient Music Soundtrack Edition)

Digital customers: not sure what soundtrack you want? Do BOTH ($9.99)!
The long awaited sequel to The Original VIDEO PIZZA is finally here! VIDEO PIZZA 2 (also known as The Original VIDEO HAWAIIAN PIZZA) by WOLF CHOIR is a pizza lover's fantasy come true! Join us as this Canadian bacon and pineapple pizza rotates its way through space and time (literally) until it reaches its final destination: the BEACH! A full hour of non-stop pizza rotation is sure to add the perfect ambience to any romantic getaway or party experience! When the Hawaiian pizza ends, simply push play and watch again and again!

Special Features:
1) Audio options: Soothing ocean waves OR an ambient music soundtrack produced by Wolf Choir
2) Trailers

For the download version, we split it into two editions so you can pick music or waves! Or, if you like you can purchase the Deluxe Pizza Edition ($9.99 USD) with both versions of Video Hawaiian Pizza, The ORIGINAL Video Pizza, and both trailers.

"Despite deliberate pacing, it's hard to resist.The ambition of VIDEO HAWAIIAN PIZZA has to be admired, it's cinematically epic. Escape velocities of Kubrick! Ingenuity of Nolan! Exquisitely made, and heart-in-mouth moments. An unforgettable drama on a colossal scale in time and space. Hypnotic. Five Pepperonis!"
—Shadoe Stevens (Actor, Celebrity)

"Finally a video pizza in a flavor I would order!"
—Jona Bechtolt (Musician, DFA Records)

"You don't even have to keep it warm."
—Matt Hannon (Actor, Samurai Cop)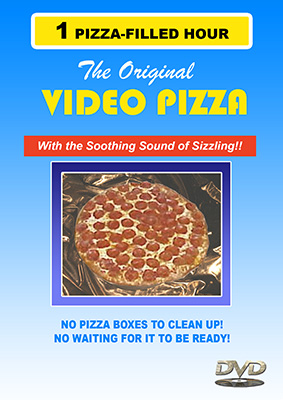 The Original VIDEO PIZZA
DVD $9.99 USD | DOWNLOAD $6.99 USD
Plus $5 S&H USA (Int'l varies)
The original VIDEO PIZZA by WOLF CHOIR is a one of a kind way to spend the evening! A full hour of rotating pizza montage with soothing sizzling sound effects, adds the perfect ambience to any party experience! When the pizza ends, simply push play and watch again and again!

VIDEO PIZZA spins to sizzling sounds as endlessly turns, so you can play your own pump-up music! Or if you prefer, relax to the soothing sounds of sizzling.

Special Features include Trailers for other WCHV titles.

"I love pizza movies!"
—Rope McCord (Janitor, Nike Campus)

"One of the movies of the year!"
—Ivan Rassimov (Film Critic)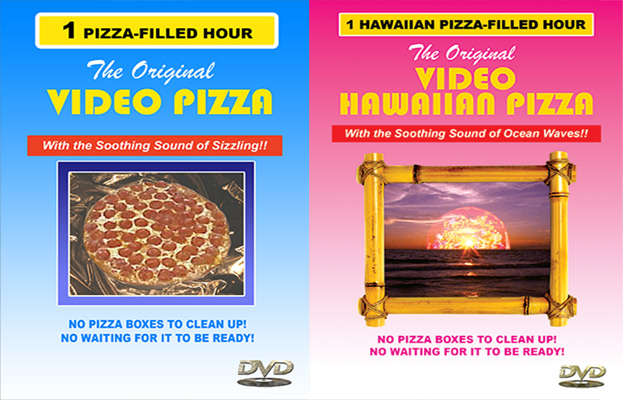 VIDEO HAWAIIAN PIZZA + VIDEO PIZZA DELUXE EDITION
DVDs $14.99 USD | DOWNLOAD $9.99 USD
Plus $5 S&H USA (Int'l varies)
Both pizza movies bundled together! Who could ask for more? With this purchase you'll receive both VIDEO PIZZA and VIDEO HAWAIIAN PIZZA on DVD. The digital download version includes both full movies (Waves + Music Editions of VHP) PLUS the official trailer of each, viewable here: Video Pizza | Video Hawaiian Pizza.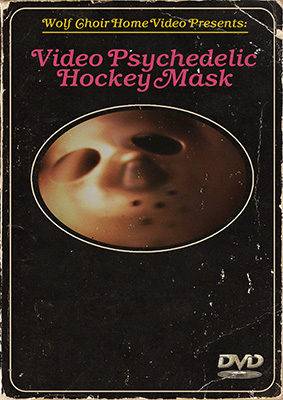 VIDEO PSYCHEDELIC HOCKEY MASK
DOWNLOAD 6.99 USD

Take a TRIP into the dark hallucinogenic world of VIDEO PSYCHEDELIC HOCKEY MASK by WOLF CHOIR. Never before has the world witnessed such relentless exploitation of a sports-related item in cinema until now. This film features one full hour of uninterrupted rotary psychedelia presented in the most glamourous color of them all... Pure GOLD! The perfect addition to your ambient film collection. Get lost in this one of a kind film from the creators of the original VIDEO PIZZA... When the film ends, simply push play and watch again and again!
MAILING LIST SIGNUP
If you'd like to be notified when we have new ambient DVD's or other Video Pizza-related merch available, sign up for our mailing list (we rarely send out emails—only on SPECIAL occasions).
Shipping & Other Info
All orders processed in 2-3 days and ship USPS First Class Mail.
Payment is processed by Paypal, via an existing account or a credit card.
Int'l orders: shipping varies, depending on country. Sent USPS First Class Int'l.

Holiday Shipping: The last orders for Christmas will ship on 12/19/2016!

Email us here.
VIDEO PIZZA BUZZZZZZ
Video Pizza shout-out on Good Day Sacramento by ye olde Pizza Brain

A Video Pizza review on Beautiful/Decay Magazine's site

Video Pizza interview at sliceny.com - the best pizza blog ever!

Sweet article on Eat Me Daily

A shout-out at the super rad WFMU's Beware of the Blog

A cool post at Videogum.com

VIDEO PIZZA ©2007-2019 Wolf Choir LLC